This is the original Kimba, the real Kimba, the Kimba that went around the world and is still loved by millions of people everywhere.

The show was produced in Japan, where it was known as "Jungle Emperor". The story and characters were created by Dr. Osamu Tezuka, adapted from his own manga which was first published in 1950.

Jungle Emperor / Kimba the White Lion was made in 1965 as a joint production between Tezuka's Mushi Productions and NBC Enterprises. This is the series that has become famous around the world.

Kimba the White Lion is often described as leading the way for modern anime. It was the first anime made in color, beating Speed Racer to the screen by a year. In Kimba, Tezuka established the expressive character of anime, with a much wider spectrum of both paints and animation techniques than in his black-and-white series that had gone before, vividly depicting characters' emotions through color and a wide array of visual poses, animation tricks, and exaggerations. And in spite of the show's chronological age it is actually (still) far ahead of most modern anime in its use of the medium. Tezuka exploited the possibilities of animation with superb imagination and storytelling skills. The stylized characters can express their emotions, motives, and intentions in an instant. Color itself was used in wonderful and powerful ways.

The color aspect is worthy of in-depth scrutiny. In Kimba, even the landscapes have emotion thanks to the creative use of color. The sky, for example, is rarely just blue. In fact, it is very often red, as is the raging water of the river, creating a dramatic tension that is felt subliminally.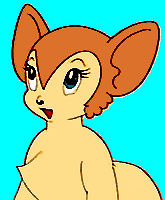 One of the most endearing features of the Kimba shows is that they are not all about dramatic tension. There are peaceful scenes, playful scenes, scenes in which characters sing out of pure happiness. Color underscores these as well. Once you consciously begin to see how everything is painted in this show, you can almost feel the joy coming direct from the original designers and painters, through the time and celluloid, just a vivid as if you were there.
This is why you owe it to yourself to see the restored visuals in the Kimba Ultra Edition DVD box--the cheapo DVDs that are around are amateurishly bad, with unforgivably ruined visuals and sound.
The music for the original was written by Isao Tomita, who has written music for a large number of movies and shows, and gained worldwide fame in the 1970s with his amazing analog synthesizer performances. Tomita's imaginative use of the range of sound possibilities of a full symphony orchestra added immensely to the wonder, magic, mystery, and power that you feel as you watch Kimba.
We were lucky when the show was dubbed into English. The American voice actors had performed in many radio and voiceover productions and they were wonderfully talented at characterization. Click on the "Show History" button for more information.
The American theme song was written by Bill Giant, Bernie Baum and Florence Kaye. You can find it with the "Theme Song" button to the left.
The characters were voiced by 5 actors:
Billie Lou Watt: Kimba, Snowene, Dodie Deer, Gypsy
Gilbert Mack: Pauley Cracker, Mr. Pompous, Claw, Tom
Ray Owens: Dan'l Baboon, Bucky Deer, Cæsar, Viper Snakely, Cassius, Tab, Stork, Narrator
Sonia Owens: Kitty, Mary/Tonga, Mammoth, Bella Donna
Hal Studer: Roger Ranger
There are 52 episodes. All 52 episodes are available on DVD. Some VHS tapes are still available, too. You can order them using the links on this page.